Morganton Construction Injury Attorney
Construction is arguably the most dangerous industry in which anyone can work. According to workplace injury reports gathered by the Occupational Safety and Health Administration (OSHA) and other agencies, construction reports more workplace injuries and fatalities than any other industry each year. If you or a family member works in construction in Morganton, it is necessary to acknowledge the risks you face each day at work and know what you should do if you experience any type of construction accident resulting in a serious injury.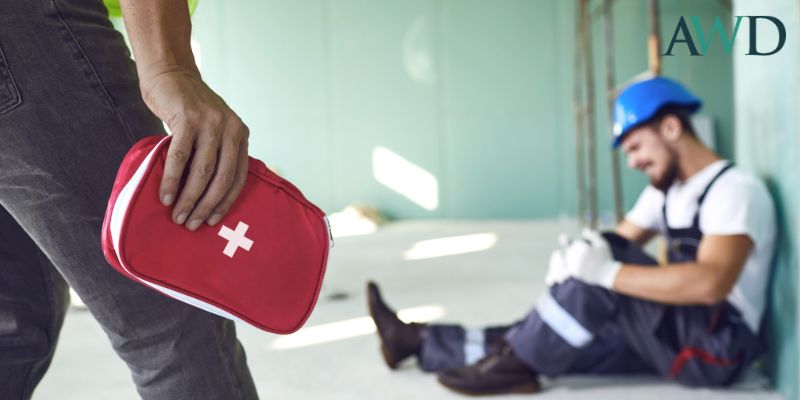 Experienced Legal Representation for Victims of Construction Accidents in Morganton, NC
The attorneys at Ayers, Whitlow & Dressler have years of professional experience helping clients in Morganton and surrounding communities with their work injury claims. We know the hazards you face in the construction sector and the many legal challenges you are likely to face if you sustain any injury while working. If you need assistance with your recovery efforts, we are ready to provide the guidance and support you need in this difficult time.
Common Types of Construction Injuries
Everyone who works in the construction industry faces significant safety risks at work every day. A few of the most commonly reported types of construction-related injuries that can lead to workers' compensation claims and other legal cases include:
Injuries from falls. Any fall has the potential to cause severe injuries, from broken bones to brain trauma. The height of a fall typically determines the scope and severity of the resulting injuries. Falls can happen in construction sites on ladders, scaffolds, lifts, and from working on unfinished structures.
Injuries from heavy equipment. Construction workers are often required to use heavy machinery and specialized tools to complete their work. Many of these devices are capable of inflicting tremendous harm if they malfunction or if they are misused.
Vehicle-related injuries. Many construction workers use or work near specialized vehicles like dump trucks, front-end loaders, forklifts, excavators, and more. These vehicles lack the safety features that passenger vehicles have and can easily cause devastating injuries when accidents happen.
Repetitive stress injuries. It's common for construction workers to perform the same physical tasks every day at work. Over time, the parts of their bodies they use the most can experience wear and tear in various ways, from strains and sprains to severe soft tissue damage and degradation of the joints. It can be difficult to prove these injuries directly resulted from work, but they qualify for workers' compensation benefits just like acute injuries suffered in the workplace.
These are just a few examples of the risks that construction workers face in Morganton and surrounding areas. If you sustain any type of injury from a construction accident, it is important to know your options for recovering your losses and overcoming the effects of the accident as wholly as possible.
Filing Your Claim for Workers' Compensation Benefits
Under state law, almost every employer in the state must have workers' compensation insurance. When an employee sustains an injury while working, this insurance prevents the employer from facing civil liability for the victim's damages and provides financial support to the victim to help them recover. If you work in Morganton and suffer any type of injury from a construction accident, you are likely covered by your employer's insurance policy.
When a work-related injury occurs, the victim should report the incident to their supervisor immediately. The supervisor is required to create an incident report of the injury and provide the injured worker with the materials they will need to file their claim for workers' compensation benefits. If the employer interferes with this process in any way, or if they engage in unlawful retaliation against the injured worker, they can face severe legal penalties.
If your employer fulfills their obligations in good faith, you will need to undergo a medical examination from a workers' compensation physician as part of your claim filing process. You can see any available doctor if you suffer a severe injury that demands immediate emergency treatment, but a formal evaluation from a workers' compensation doctor is typically necessary as part of your claim filing process, so you should expect to do this after receiving initial treatment.
The doctor who examines you will assign you a disability rating based on the severity of your injury. This rating will then determine the scope of the benefits you will receive from the insurance carrier. If you disagree with their assessment, your Morganton construction accident attorney can help you arrange a second opinion. After completing this medical review, you can submit your claim to the insurance carrier to await their determination of benefits.
Benefits Available for a Construction Accident Injury in Morganton
The purpose of workers' compensation benefits is to provide the injured worker with the economic relief they need until they are able to return to work. Generally, a successful workers' compensation claim yields two types of benefits:
The insurance company will pay for any medical care the claimant needs to fully recover from their injury. This includes immediate and future medical expenses if they sustain any serious injury that demands ongoing care. Your Morganton construction accident attorney can work with your medical care team to ensure you receive appropriate medical expense coverage for all the treatment you require.
Your claim can also yield disability benefits. This aspect of your claim determination aims to offset the impact of your inability to work during your recovery. If you can still work but cannot earn as much as you did prior to your injury, you may qualify for partial disability benefits. If you cannot work at all due to your injury, you will qualify for total disability benefits.
If you are awarded partial disability benefits, you will need to report your earnings to the insurance carrier and keep them informed on your recovery progress. Failure to meet your reporting requirements could lead to a termination of benefits and other penalties. If you are awarded total disability benefits, these are typically paid each week for up to 500 weeks or until you are able to return to your job. An injured worker can usually expect about two-thirds of their average weekly wage each week in disability benefits. For example, if you usually earn $900 per week, you can expect roughly $600 in weekly disability benefits through your employer's workers' compensation insurance.
Personal Injury Claims for Construction Accidents in Morganton
When your employer has workers' compensation insurance as required by state law, you cannot file a civil suit against them for your work-related injury. However, if they do not have insurance or if they intentionally caused your damages somehow, these factors would negate their immunity, and you could pursue a personal injury claim. Alternatively, if any party outside of your work caused your injury, you could proceed with your workers' compensation claim if the injury occurred while you were working, but you would also have the right to file a third-party personal injury claim to recover the losses that insurance won't cover.
If a third party is liable for your injury, you can seek compensation for the lost income that workers' compensation insurance doesn't cover, and you also have the right to claim pain and suffering compensation. Workers' compensation does not pay for pain and suffering, and there is no limit to how much a plaintiff may seek in a personal injury claim. If you suffered a life-changing injury, your pain and suffering compensation has the potential to eclipse all the other forms of compensation you secure through your recovery efforts.
Proving fault may not be entirely necessary for the purposes of a workers' compensation claim, but it is crucial for a personal injury claim. To succeed with your personal injury case, you must identify the party who caused your injury and prove they are directly responsible for your damages. Additionally, you must prove that you bear no partial fault for causing the damages. North Carolina upholds the contributory negligence rule, so any plaintiff fault nullifies their ability to claim compensation from the defendant.
Resolving Your Construction Accident Case in Morganton
You could have more options for recovering from your recent construction accident than you immediately realize, and no matter what your case entails, you have the greatest chance of maximizing your recovery when you have legal representation you can trust. The right attorney can make every aspect of your workers' compensation claim filing process easier to manage and more likely to yield the results you hope to see. When you choose Ayers, Whitlow & Dressler, we are fully prepared to guide you through the workers' compensation claim filing process as well as assist you with any additional legal recourse available to you.
Time is a crucial consideration after any workplace injury in Morganton. The sooner you connect with an experienced attorney, the more likely you are to maximize the results of your recovery efforts as much as state law allows. Ayers, Whitlow & Dressler has cultivated a strong reputation as a leading choice for work injury counsel in the Morganton area due to our commitment to client-focused legal counsel in every case we accept. If you are ready to learn what a seasoned Morganton construction accident attorney can do for you in your recovery efforts, contact us today and schedule a free consultation with our team.