When most people think about dog bites, they may think of a simple nip or a small bite that breaks the skin. In reality, dog bites can lead to very serious and sometimes fatal injuries. If you or a loved one has been injured in a dog attack, you may be facing substantial bills for extensive medical care. Bills for that medical care and any other losses should not come out of your pocket.

A skilled attorney can help you hold dog owners accountable for their dangerous dogs. Typically, a dog owner's homeowners insurance provides for his or her defense, and it is the ultimate source of compensation for injuries suffered in a dog attack. We understand what it takes to secure the compensation you need.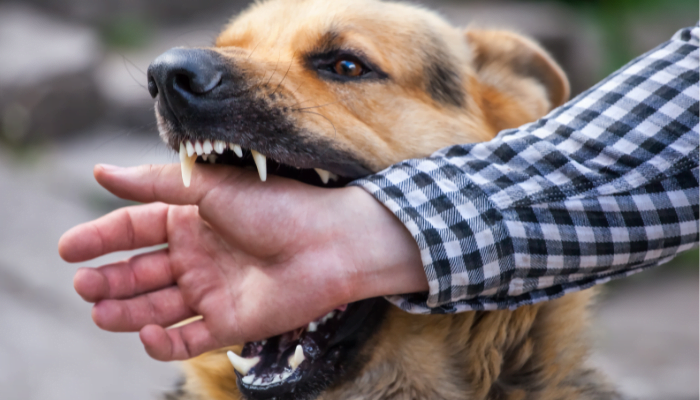 IS IT WORTH SUING FOR A DOG BITE INJURY?
It's understandable to feel frustrated and confused about your rights after you or a loved one has been attacked and injured by someone else's dog. If you are unsure of your legal options after a dog attack in the Charlotte, NC area, it's important to consult an experienced attorney as soon as possible. A Charlotte dog bites attorney can help you determine who is responsible for your damages and hold them accountable.
If you are unsure whether you need to hire legal representation, it's important to understand what your dog bite case is likely to entail. First, you would need to meet various procedural requirements with the court, including strict filing deadlines. You will also need to provide proof of the full scope of your claimable damages. Attempting to meet these legal requirements while managing you or your loved one's medical recovery from the injury would be extremely challenging.
An experienced Charlotte dog bites lawyer can allow you to approach your case with greater confidence. Your attorney will help you gather the evidence you will need to establish liability for your damages and proof of the full extent of those damages. Instead of attempting to manage your recovery and your legal proceedings simultaneously, have an experienced legal team handle your claim on your behalf. In this way, you can focus on recovery with peace of mind.
Was Your Child Attacked By A Dog?
Children are often the victims of dog attacks for several reasons, including their short stature and inability to recognize when a dog should not be approached. These factors can lead to children being severely bitten, often in the face and neck. This can create:
Scarring. Dog bites can be extremely damaging, often resulting in permanent disfigurement and catastrophic injuries. Some children may require multiple rounds of surgery to correct their dog bite injuries, leading to long and painful recoveries.
Trauma. A dog attack can be incredibly traumatic for any victim, but children are much more likely than adults to suffer psychological trauma from these incidents. It's common for dog attacks to cause Post-Traumatic Stress Disorder (PTSD) and other psychological problems for the victim.
Self-esteem issues. Children who suffer scarring dog bite injuries may feel self-conscious about their appearance following these experiences. It often takes children many years to overcome the emotional distress caused by dog attacks and the resulting injuries.
Difficulty socializing. Children who experience PTSD and emotional distress from dog attacks may have trouble in social situations. Other children may not show sympathy to their experience or even tease them about scars from dog attacks.
All of these issues require special attention and need to be factored in, where appropriate, to the pursuit of compensation. Adults attacked by dogs can also suffer a host of physical and psychological effects from these experiences. Whatever your situation entails, it's vital to seek legal counsel from an experienced Charlotte dog bites lawyer as soon as possible to determine your best available options for recovery.
Let A Personal Injury Lawyer Help You Recover Compensation
At Ayers, Whitlow & Dressler, our attorneys are sensitive to the issues that people face after a serious dog attack has left them or their child injured. We have the superior experience and skill to offer our clients the highly effective representation they deserve.
Dog attacks often cause several types of damages to the victim. In North Carolina, dog owners are strictly liable for any damages their pets cause to others. Your Charlotte personal injury lawyer could potentially help you recover compensation for both economic and noneconomic losses resulting from your dog attack:
You have the right to seek compensation for any medical treatment you require for your injuries. This includes immediate medical costs after the incident as well as long-term medical costs for injuries that demand ongoing care.
If your injuries prevent you from working for an extended time, you can add your lost income to your personal injury claim. Some dog attacks may result in permanent disabilities. Plaintiffs who are no longer able to work due to permanent disability have the right to seek compensation for lost future earning capacity.
If the incident in question also caused damage to your personal property, you can include repair and replacement costs in your claim.
North Carolina law allows personal injury plaintiffs to seek compensation for their pain and suffering. The amount you can claim hinges on how serious your injuries are and whether you are likely to experience long-term medical complications from them. Your Charlotte dog bites lawyer will help you calculate the full scope of pain and suffering damages you can include in your claim.
Many personal injury plaintiffs discover their claims are worth much more than they originally expected once they have reliable legal counsel representing them.
Attorney Brett E. Dressler has been helping the injured recover the full compensation since 1998. Over the course of his career, he has been recognized on numerous occasions for the quality of representation he provides, including getting an AV Preeminent* rating from Martindale-Hubbell's peer review rating system and being named in the Rising Stars list of Super Lawyers in Texas and North Carolina in personal injury litigation and business litigation, respectively.
To find out more about how we have helped our clients, review our client testimonials.
WHAT TO EXPECT IN YOUR DOG BITE CASE
North Carolina's strict liability rule for dog attacks is quite clear. The dog owner is responsible for any damages their dog causes to others. However, there are some conditions the situation must satisfy for the victim to claim strict liability. First, the victim must have been legally present at the location where the attack occurred. This means they must have been on public property or private property with the property owner's permission. For example, an intruder, burglar, or trespasser cannot file a personal injury claim against a property owner if their dog injures them since they are not legally present on the property.
The other important condition is a lack of provocation. If the victim did anything to intentionally provoke the dog, such as attacking it or its owner and prompting a defense mechanism, this would preclude them from claiming strict liability. Your Charlotte dog bites lawyer will assist you in establishing the dog owner's liability for your damages and the exact extent of those damages.
A dog bite injury claim is a type of personal injury claim, and the majority of personal injury claims settle outside of court. Settlement negotiation provides both sides of the claim with the opportunity to resolve the situation swiftly and effectively, avoiding expensive and time consuming litigation. However, settlement is only possible if both parties agree to settle. If the defendant contests their liability or disputes the scope of damages the plaintiff includes in their claim, the case may go to court.
HOW MUCH DOES A CHARLOTTE DOG BITE LAWYER COST?
It's natural to be concerned about the potential cost of your legal fees, especially when you are already struggling with expensive medical bills and economic strain from inability to work. Ayers, Whitlow & Dressler strive to ensure personal injury representation is as accessible as possible to those who need it most in Charlotte, NC. We offer contingency fee billing instead of charging our clients by the hour.
With a contingency fee agreement, the client pays nothing up front for their legal representation and only pays a legal fee to their attorney once the attorney wins their case. The contingency fee is a predetermined percentage of the final case award, ensuring the client receives an appropriate recovery for their damages. Our team will carefully explain our contingency fee policy, so you know exactly what to expect in terms of your legal fees from the very beginning of your case proceedings.
We Have Experience With Dog Bite Law Suits. Contact Us Today.
If you or a loved one has been bitten by a dog, trust your case to an attorney with a record of success. The personal injury attorneys of Ayers, Whitlow & Dressler can help you effectively pursue the compensation you need. To schedule a free initial consultation with one of our Charlotte dog bites attorneys, call 704-594-4317 or contact us online.
We accept cases on a contingent fee basis. We only collect attorney fees if we obtain compensation for you.
*AV®, AV Preeminent®, Martindale-Hubbell Distinguished and Martindale-Hubbell Notable are certification marks used under license in accordance with the Martindale-Hubbell certification procedures, standards and policies. Martindale-Hubbell® is the facilitator of a peer review rating process. Ratings reflect the anonymous opinions of members of the bar and the judiciary. Martindale-Hubbell® Peer Review Ratings™ fall into two categories – legal ability and general ethical standards.