Any personal injury has the potential to cause lasting damage to the victim. Some personal injuries result in painful injuries that demand extensive recovery time, and the effects of these incidents can sometimes be visible and permanent. A scar or disfiguring injury can have lifelong effects on a person's emotional well-being and attitudes toward life. In addition, in some cases, it can limit a person's earning potential.
As an accident victim, you are entitled to claim compensation for your economic and noneconomic losses, including medical costs, lost income, and pain and suffering. To protect your rights and ability to claim compensation, you should speak with a personal injury attorney concerning your case.
The Charlotte scarring lawyers of Ayers, Whitlow & Dressler have extensive experience representing clients in difficult personal injury cases. We strive to maximize our client's recovery in every case we accept but calculating damages for some personal injuries isn't exactly straightforward. While some damages like medical expenses and property losses can be easily calculated, it can be very challenging to assign monetary values to abstract concepts like physical pain and the psychological damage that permanent disfigurement can cause.
We work closely with every client we represent, learning as much as we can about their experiences and helping them explore every open channel of compensation. Money may not make up for the extreme suffering that scarring injuries can cause, but a suitable case award can make transitioning to a new phase of life much easier.
WHY YOU NEED RELIABLE LEGAL COUNSEL
If another party has caused a scarring injury to you or a loved one, it is vital to understand the value of legal counsel in your pursuit of compensation for your damages. While your case may seem straightforward and the defendant's responsibility for your damages may seem perfectly clear, the actual process of filing and winning a personal injury case is more complicated than many claimants expect.
While you may be hesitant about incurring legal fees in your personal injury case, it's vital to recognize the fact that you stand to lose much more than you would possibly save by foregoing legal counsel. You would need to meet very strict procedural requirements with the court system, and failure to adhere to the applicable policies in your case can have a dramatic negative impact on the outcome of your case. Additionally, if you attempt self-representation, you will need to meet these procedural obligations while also dealing with your recovery and other personal obligations.
Working with an experienced Charlotte scarring attorney can significantly improve the quality of your experience in the civil court system. Instead of attempting to manage your recovery and the various elements of your case simultaneously, you can rest and recover with peace of mind knowing your claim is in capable hands. You can rely on your legal team to help you build your case while you focus on your personal affairs. Hiring an experienced personal injury lawyer not only improves the overall experience with your claim, but also increases the chances of maximizing your compensation. Your Charlotte scarring lawyer is likely to uncover avenues of compensation you would probably have overlooked had you attempted to handle the case on your own.
Strong Advocates for Accident Victims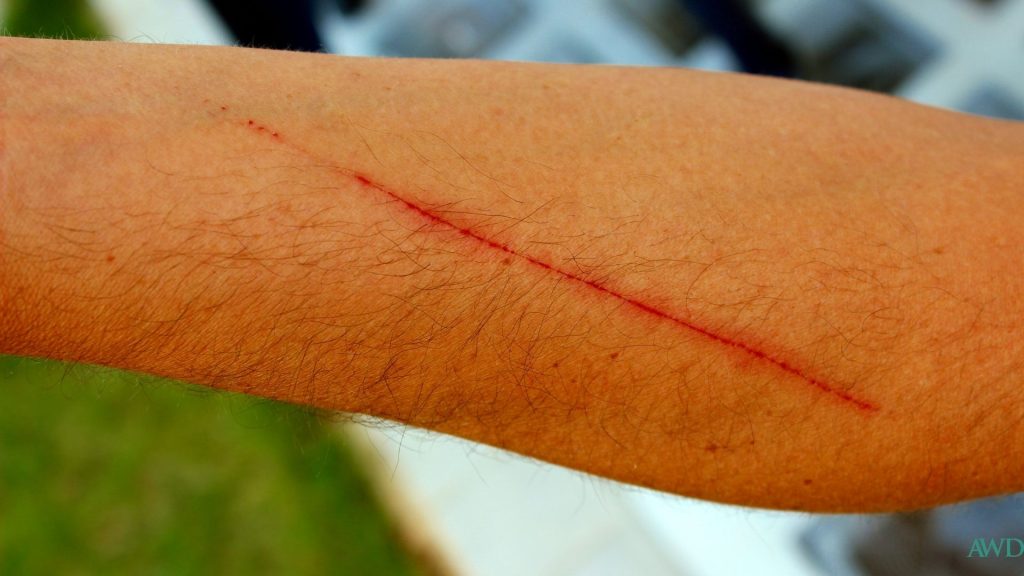 Ayers, Whitlow & Dressler is a law firm with decades of experience representing accident victims in cases involving scars and disfigurements caused by:
Car accidents. A severe car accident can have devastating consequences, potentially resulting in catastrophic injuries that are disabling as well as scarring. Many car accident victims sustain bone fractures and other bodily injuries that result in permanent scars, and facial and dental injuries can be extremely traumatic as well. The at-fault driver's car insurance may only cover a small portion of the total damages you incur from a serious car accident.
Truck accidents. Accidents involving large commercial trucks are very likely to result in severe injuries to those involved. When a truck accident causes permanent scarring, the victim may face a difficult legal process due to the complex liability issues that often arise in truck accident claims.
Bicycle accidents. When a bicyclist suffers injuries in an accident with a motor vehicle, they could suffer scarring injuries in many ways. Crash impact forces and the secondary impact of hitting the ground can cause traumatic injuries, some of which may result in permanent disfigurement.
Dog bites. Dogs are capable of inflicting incredibly painful injuries. Bites and scratches can easily cause scarring, and the victim is likely to experience psychological trauma both from the nature of the incident and the severity of their injury.
On-the-job accidents. If you are injured at work, you likely have grounds to claim workers' compensation benefits that can cover medical expenses and a portion of your lost income while you are unable to work. However, workers' compensation may not offer full compensation for the entire breadth of your injuries, especially disfiguring ones that cause psychological trauma in addition to physical pain. A Charlotte scarring attorney can help you determine whether you have grounds for further legal action beyond workers' compensation.
Other acts of negligence. Whenever any party injures another party due to negligence, carelessness, or reckless disregard for the safety of others, the victim has the right to hold that party accountable for any and all damages they caused. Your attorney can help you determine a suitable amount of compensation to include in your claim based on the severity of your injuries and the likelihood that you will experience permanent scarring from their actions.
We have the investigative resources, medical knowledge and advocacy skills needed to handle serious accident cases. When our law firm represents you, we will seek full compensation for your financial losses and pain and suffering.
Medical Care And Compensation In Scarring Cases
In recent years, significant advances have been made in scar treatment techniques. Cosmetic surgery, laser surgery and steroids may prove effective in minimizing the size and prominence of scars. The personal injury laws of North Carolina entitle the victims of other parties' negligence and intentional misconduct to hold those parties accountable for the full scope of damages they cause. Essentially, the purpose of a personal injury claim is to make the victim "whole" again after they have been damaged by another party's actions. When it comes to scarring injuries, it can be very difficult to determine exactly how much a scarring injury claim might be worth.
At Ayers, Whitlow & Dressler, we will work with cosmetic surgeons and other medical experts to learn about your medical needs. We will then seek the financial resources to pay for appropriate care, such as scar revision treatment and psychological counseling, to address emotional problems and self-esteem issues. Our law firm will make a full accounting of all other losses and seek full compensation for you.
Calculating your economic damages is relatively straightforward, but it is only one aspect of your damages in a personal injury case. Your legal team can help you calculate medical expenses, property damage, and other easily calculable losses before turning to the more complex side of your case. North Carolina law allows a personal injury victim to seek compensation for their pain and suffering, and there is no limit to the amount a plaintiff can claim in pain and suffering. The only exception would be medical malpractice claims. If a medical professional caused your scarring injury and you must file a medical malpractice claim against them, you can only seek a maximum of $500,000 in pain and suffering compensation.
Your Charlotte scarring attorney will help you determine an appropriate amount of pain and suffering compensation to include in your personal injury claim. When you account for the severity of your scarring, the extent of medical treatment you will require to heal your scars as much as possible, and the pain of recovery, your potential compensation could be much more than you initially expected.
Some attorneys will seek large lump sums for their clients' pain and suffering. For example, if you suffered injuries requiring $200,000 in medical treatment and are likely to experience permanent scarring, your attorney could multiply your medical expenses and other damages to determine a fair amount of pain and suffering. Cases involving permanent scarring sometimes lead to millions in pain and suffering for plaintiffs. If you are unsure of the total potential value of your claim, it is vital to consult an experienced Charlotte scarring lawyer as soon as possible.
PROVING LIABILITY AND SUCCEEDING WITH YOUR CASE
North Carolina's personal injury law requires a plaintiff to prove a defendant is directly responsible for their claimed damages. Your attorney will help you gather the evidence you need to establish liability in your case, and they will also assist you in proving the full scope of your damages. You must identify the party or parties responsible for causing your injury and prove that your damages would not have happened if not for their behavior. It's possible to file a personal injury claim in response to an injury caused by negligence or intentional misconduct. In the event the defendant in your case intentionally caused the harm you experienced, they may face criminal prosecution, in addition to civil liability for your damages.
One important thing to remember about personal injury claims in North Carolina is the state's contributory negligence law. If a plaintiff bears any partial responsibility for causing their claimed damages, they lose the right to seek compensation under this law. It's common for defendants in personal injury claims to assert contributory negligence in an effort to avoid liability for a plaintiff's damages. If you have any concerns about a defendant claiming contributory negligence in your case, it is vital to work closely with your Charlotte scarring attorney to determine the best way to overcome such accusations.
If a defendant's liability for your damages is clear, it is very likely that they will agree to settlement negotiations with you and your attorney. The vast majority of personal injury claims filed in the United States settle outside of court. During settlement negotiations, the parties discuss the case and reach mutually agreeable terms. If the defendant accepts liability for the plaintiff's damages and agrees to the amount of damages sought, settlement may not take very long to complete. In the event the defendant refuses settlement, disputes their liability for the plaintiff's damages, asserts contributory negligence, or disagrees with the amount of damages sought, the case may proceed to litigation.
Experienced attorneys can help their clients establish defendants' liability in various ways. Physical evidence, witness testimony, and expert witness input can all help a plaintiff prove the full scope of their damages and prove the defendant's liability. For example, if your injury happened in a car accident and the defendant disputes their responsibility in causing the accident, your attorney may arrange for an accident reconstruction expert to prove exactly how the crash occurred. A medical expert may help the court understand the full scope of your injury's effects, including both physical pain and psychological trauma resulting from the defendant's actions.
It is typically best to avoid litigation whenever possible due to the time required to complete most civil cases. However, litigation may be unavoidable if the defendant disputes liability or if your case involves multiple defendants. Whatever your unique situation entails, it will be much easier to confront your legal proceedings when you have reliable and experienced legal counsel on your side.
Free Consultation — Contact Our Firm
It's natural to have lots of questions about your legal options after a scarring injury. A consultation with a potential personal injury lawyer is an opportunity to determine whether the attorney is right for handling your case. During your consultation, you can learn more about the attorney's strategy and gain insights into the legal mechanisms involved in your case. The team at Ayers, Whitlow & Dressler have extensive experience with scarring injury cases, and we can put this experience to work for you. To discuss a scar injury case with an experienced and committed lawyer, contact Ayers, Whitlow & Dressler. We represent clients throughout North Carolina from our offices in Charlotte.