Losing a loved one is the most difficult experience any of us can go through. Knowing that loss could have been prevented if someone had been more careful only adds to the grief. No one should have to worry about the legal aspects of the loss of a loved one when there are more pressing matters to tend to.
If you have recently lost a family member due to the actions of another party, it's natural to feel frustrated and uncertain. You are, of course, addressing the aftermath of a death while experiencing the burden that comes with knowing that another party is responsible. Reliable legal counsel from a Charlotte wrongful death lawyer is an invaluable asset in this situation. You can rely on your legal team to help you ensure accountability for the wrongful death and secure compensation for your family's loss. While money cannot replace your lost loved one, it can help you and your family adjust to your new financial reality with greater peace of mind.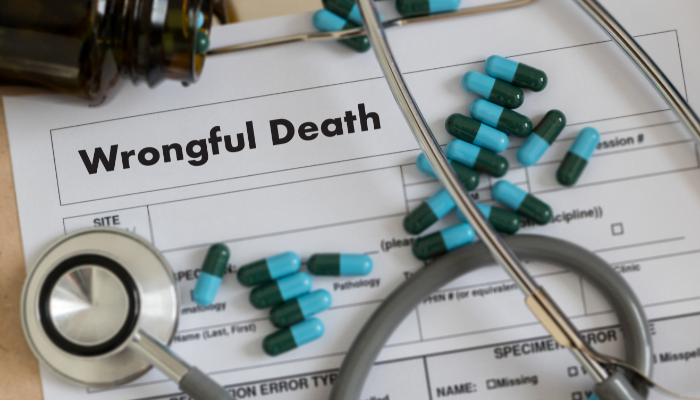 WHY DO I NEED A CHARLOTTE WRONGFUL DEATH ATTORNEY?
If another party is clearly responsible for the recent death of a loved one, you may wonder whether you can hold them accountable on your own and save your family money on legal fees. No matter how straightforward a wrongful death claim may seem at first, it is always best to have legal representation on your side when approaching this kind of difficult civil case.
A wrongful death claim is a type of personal injury case filed in civil court. Thus, success with a wrongful death claim requires meeting various strict procedural requirements. You must file several pieces of documentation with the court on time, gather extensive evidence to prove liability and establish your damages, and prepare for a protracted case if the defendant does not accept liability for the death in question. If you try to do this alone, you will need to satisfy these legal requirements while also mourning the death of your loved one and managing the aftermath of the death in your household.
Hiring an experienced Charlotte wrongful death lawyer to represent your case means you and your family can have some peace of mind during an extremely challenging time. Your legal team will handle your case filings on your behalf and provide you with timely updates as the case unfolds. You can also rely on your legal team to uncover channels of compensation you may have overlooked on your own. Ultimately, hiring a Charlotte wrongful death attorney not only increases your chance of winning your case, but is also likely to generate a better result than you could have managed alone.

Our attorneys provide highly effective representation that allows you to focus on your own needs and those of your loved ones during your time of loss. Our goal is to shoulder any worries that may arise regarding holding the responsible parties accountable for the loss they have created.
Attorney Brett E. Dressler brings more than 15 years of experience to the aid of his clients who have lost loved ones in unfortunate circumstances. Brett is proud of the help he has been able to provide to the families of those who have been lost to accidents. His service to his clients has been recognized in his AV Preeminent* rating from Martindale-Hubbell's peer review rating system and being named in the Rising Stars list of Super Lawyers in Texas in personal injury litigation.
Let Us Help You Recover The Compensation You Deserve
At Ayers, Whitlow & Dressler, we know that our clients are facing some of the most trying times they may ever face. We will protect your rights and your best interests as we pursue justice for your lost loved one. Our focus is on providing you with peace of mind and confidence that your legal matters are being well-handled.
Wrongful death claims are similar to personal injury claims in that they revolve around the concept of negligence, or a failure to act with reasonable care. They may also pertain to intentional misconduct. When any party is negligent in a way that results in injury and/or economic loss to another party, they become liable for personal injury. If that negligence leads to the death of another person, the at-fault party becomes liable for wrongful death.
HOW MUCH IS A TYPICAL WRONGFUL DEATH SETTLEMENT?
A wrongful death claim differs from a personal injury claim in terms of the damages involved. While a personal injury claim seeks compensation for the victim's losses, a wrongful death claim pursues funds to compensate the victim's family for the unique losses they incurred. Compensation for these losses is determined by evaluating several factors, including the expenses involved, the earning capacity of the decedent, and even the way the death emotionally affected their surviving family. As a result, wrongful death compensation varies drastically from case to case.
A successful wrongful death claim can potentially help the family of the deceased recover compensation for the decedent's burial and other funeral expenses, compensation for the loss of economic support the decedent provided, and compensation for the lost care, consortium, and even affection previously enjoyed by the family. If the victim did not die immediately following the defendant's actions, their estate likely incurred other financial damages such as medical bills and lost income. In this situation, the family would likely have grounds to file a survival action in tandem with their wrongful death claim.
If you are concerned about the potential cost of legal fees, Ayers, Whitlow & Dressler offers contingency fee billing to ensure client recovery. Unlike an hourly billing agreement, a contingency fee agreement means that a client only pays legal fees once their attorney wins their case. The contingency fee is a predetermined percentage of the final case award. Our team strives to ensure our legal services are accessible to those who need them most, so we do not charge any upfront legal fees to our clients in wrongful death cases.
WHAT QUALIFIES AS WRONGFUL DEATH?
If your family recently experienced the wrongful death of a loved one, you need an attorney with solid experience handling this type of case. Ayers, Whitlow & Dressler have successfully handled many wrongful death claims throughout the Charlotte, NC Area and can apply our professional experience to your situation. We understand that every wrongful death claim is unique, and every family will face different challenges after the unexpected death of a loved one.
We provide superior representation to those who have lost a loved one in any manner of accident, including:
Car accidents. Speeding, moving violations, and aggressive driving are just a few of the ways negligent drivers can potentially cause fatal accidents. While auto insurance may provide some level of financial relief after a fatal accident, a wrongful death claim is likely necessary to hold the responsible driver fully accountable for their actions.
Accidents caused by drunk drivers. It is illegal and extremely dangerous for any driver to operate a vehicle under the influence of drugs or alcohol. If you lost your loved one because of a drunk driving accident, the at-fault driver is not only liable for your civil damages under North Carolina's wrongful death statutes, but also faces criminal prosecution.
Trucking accidents. Large commercial trucks are inherently dangerous due to their size. When trucking accidents occur, those involved are likely to suffer fatal or catastrophic injuries. Trucking accident claims are often challenging when it comes to determining liability, and it is possible for more than one party to bear fault for a fatal truck accident.
Work accidents. North Carolina upholds some of the strictest workers' compensation laws in the country. If your loved one died while performing job duties, you and your family likely have grounds to seek compensation through the workers' compensation system. However, if a third party outside of your loved one's workplace caused their death, you may have grounds for further legal action beyond the workers' compensation system.
Medical malpractice. Medical professionals have a legal duty of care to prevent harm to their patients. If they fail in this and cause fatal injury to a patient, the patient's family has the right to file a wrongful death claim. Wrongful death claims involving medical malpractice are more challenging than most other wrongful death claims, so it is crucial to secure legal counsel you can trust for this type of case.
Clients in any wrongful death claim could face unique challenges and opportunities they may not recognize without the help of an experienced Charlotte wrongful death attorney. Our team has successfully guided many clients through some of the most challenging wrongful death cases and can apply this experience to your case. To find out more about how we have helped our clients, review our client testimonials.
WHO CAN BRING A WRONGFUL DEATH INJURY CLAIM IN NORTH CAROLINA?
Every state upholds unique laws pertaining to wrongful death claims, specifically outlining who may bring such claims on behalf of a deceased victim. In North Carolina, the executor of the deceased's estate or the personal representative of the deceased named in their will has the right to file a wrongful death claim. However, if the deceased did not name an executor or personal representative, or if they did not have an estate plan, the court can appoint a surviving family member to represent the deceased. Spouses, parents, and adult children of the deceased are most commonly chosen.
WHAT TO EXPECT FROM YOUR CHARLOTTE WRONGFUL DEATH ATTORNEY
A wrongful death claim is one of the most challenging civil claims anyone can face. Not only are these cases emotionally stressful, but they are also inherently more complex than most other personal injury claims. Hiring an experienced Charlotte wrongful death lawyer is the best thing anyone can do when facing a difficult wrongful death claim in North Carolina.
Your legal team will help you identify the party or parties responsible for the death in question and gather the evidence you will need to prove their liability. Depending on how the death occurred, this may involve physical evidence, eyewitness testimony, or even input from expert witnesses who can explain complex technical details about the death in question. Success with a wrongful death claim requires meeting specific criteria:
The plaintiff's legal team must identify the party or parties responsible for the death. They must provide evidence showing the defendant or defendants owed a duty of care they failed to uphold or acted in an intentionally harmful manner.
The plaintiff's legal team must then show how the defendant's behavior directly caused the death in question. Establishing causation is essential to proving beyond any doubt that the death occurred solely because of the defendant's actions and not some other cause.
The plaintiff's attorney will help them prove the full scope of the damages resulting from the death. This may include wrongful death damages pertaining to the family's losses as well as survival action damages for losses incurred by the deceased's estate.
Some wrongful death claims pertain to intentional misconduct or criminal acts. These cases may run in tandem with criminal cases filed by the state of North Carolina. If this applies to your case, your Charlotte wrongful death attorney will advise you regarding how one case will affect the other.
While many wrongful death claims are resolved through private settlement, some may proceed to litigation if defendants deny liability for wrongful death or dispute the damages sought by the plaintiff. Whatever your case may entail, it is always best to have legal representation you can trust for a difficult wrongful death claim.
Get a Free Consultation With a Charlotte Wrongful Death Lawyer Today
If you have lost a loved one to an accident, trust your case to an attorney with a record of success. The fatal accident attorneys of Ayers, Whitlow & Dressler can help you effectively pursue the compensation you need. To schedule a free initial consultation with one of our Charlotte wrongful death attorneys, call 704-594-4317 or contact us online.
We accept cases on a contingent fee basis. We only collect attorney fees if we obtain compensation for you.
*AV®, AV Preeminent®, Martindale-Hubbell Distinguished and Martindale-Hubbell Notable are certification marks used under license in accordance with the Martindale-Hubbell certification procedures, standards and policies. Martindale-Hubbell® is the facilitator of a peer review rating process. Ratings reflect the anonymous opinions of members of the bar and the judiciary. Martindale-Hubbell® Peer Review Ratings™ fall into two categories – legal ability and general ethical standards.