Indian Trail Slip and Fall Attorney
Slip-and-fall accidents, sometimes referred to as trip-and-fall accidents, are an often-overlooked type of personal injury. It occurs when someone slips or trips due to a dangerous condition on someone else's property. These injuries can be financially and emotionally costly for those involved and can range from minor to quite severe. For example, a person could suffer broken bones or head trauma. The property owner must be held accountable, and it is important to understand the laws surrounding negligence that allow you to make a claim against them. Oftentimes seeking out legal help will ensure that your case is handled accurately and in accordance with the law in Indian Trail, NC.
At Ayers, Whitlow & Dressler, we understand the complexities of slip and fall cases and are ready to help you build a successful personal injury claim. Our Indian Trail Slip and Fall Lawyers specialize in representing individuals who have been injured due to another's negligent conduct. We will fight for you and ensure that you receive the fair financial compensation that you deserve.
Our experienced personal injury attorneys will evaluate your case and discuss the next steps that need to be taken to get you the justice you deserve. We will investigate the scene of the accident, collect evidence and witness testimony, prepare legal documents, negotiate with insurance companies and fight for your rights in court. With our help, you can rest assured that your case is in the best hands possible.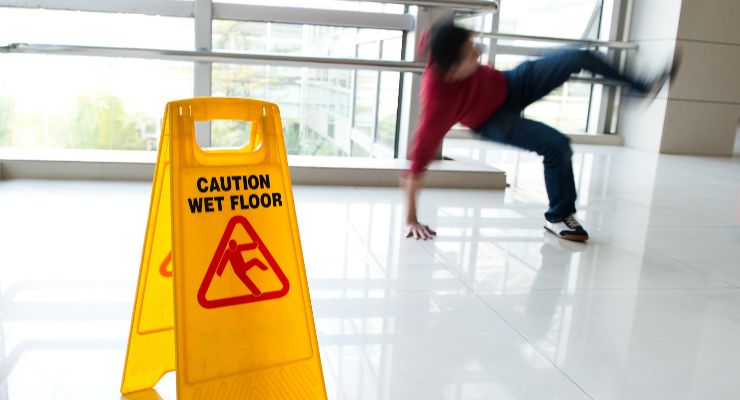 Why Do Slip and Fall Accidents Occur?
Slip and fall accidents can happen in many different environments, including public spaces, retail stores, restaurants, nightclubs, offices, private residences, and more. These types of accidents often occur due to hazardous conditions, including:
Uneven or slippery surfaces: This includes anything from puddles of water, loose gravel, ice, and snow, to uneven or cracked sidewalks.
Defective or dangerous conditions: This includes items such as broken stairs, open pits, damaged handrails, or other hazards.
Inadequate lighting: Poorly lit areas can put people at risk of an accident, as it removes the ability to see potential hazards that you would traditionally be able to see and avoid.
Improper building maintenance: A major factor in the occurrence of many slip-and-fall accidents is a lack of regular maintenance. Neglected maintenance can result in hazards like unattended spills, worn carpets or unrepaired flooring, and more.
Electrical cords exposed and in the way: Cords that are not properly secured or exposed can be a major risk factor for those in the area. For example, if an electrical cord is across a store aisle or near the entrance, it could cause someone to trip and fall.
These are only a few of the endless possibilities that can lead to slip accidents. All of these situations have one thing in common – someone else's negligence caused an injury to occur. As property owners, it is their responsibility to ensure the area is safe for visitors and employees. If they fail to do this, then they may be held financially liable for any resulting injuries.
What Injuries Could Occur From a Slip and Fall?
The severity and type of injury that a person experiences in a slip and fall accident can vary greatly. Common types of injuries include:
Sprains and strains: These are the most common and can range in severity from minor to severe. These happen due to the body twisting or being overextended in an unnatural way when falling.
Fractures: These can include broken bones, which can often require medical attention and physical therapy to heal properly.
Head injuries: Head injuries are serious and can cause traumatic brain injury or even be fatal.
Soft tissue damage: Soft tissue damage can include muscle, ligament, and tendon tears, which can be very painful and debilitating.
Broken bones: Falls can cause broken wrists, ankles, and other extremities, which can be very difficult to heal.
Back injuries: Falls can cause serious back injuries, such as slipped discs, herniated discs, and other spinal injuries.
Mental trauma: Mental trauma is often overlooked following falls but can be very real and debilitating. For example, post-traumatic stress disorder (PTSD) can manifest after a traumatic fall when a person is unsure if they are safe in their environment.
These are all potentially serious and life-altering injuries that can have long-term effects on a person's ability to perform everyday activities and live a normal life. The first step is to take care of the immediate medical needs and then consult a slip and fall lawyer to make sure your rights are not at risk and that you receive the compensation you deserve.
What Compensation Can I Earn From a Slip and Fall Case?
When you are involved in a slip and fall accident, the liable party (or their insurance company) may be responsible for providing you with compensation for your injuries. This is a legally recognized process known as a "settlement." Generally, the amount of the settlement depends on a variety of factors, such as:
The extent of your injuries: This is the most important factor in determining how much you may be awarded. This will include factors such as medical costs, lost income, and future earnings.
The amount of the liability: How much is the liable party responsible for your injuries?
Your age, health condition, and prior medical history: These will be taken into consideration when determining the amount of compensation you may receive.
Whether or not negligence was involved: If negligence was involved, then the liable party may be subject to exemplary damages.
Whether or not you had to miss work: Because your job is an essential part of your life, the liable party may be required to compensate you for any lost wages due to an inability to work.
Pain and suffering endured: This can include emotional distress, mental anguish, and other physical suffering due to the incident.
Loss of quality of life: This is a subjective factor that can take into account the impact of your injury on your day-to-day life. For example, if a person is used to being able to go for long walks but can no longer do so due to an injury, they may be compensated for this loss of quality of life.
These are just some of the factors that a slip-and-fall lawyer will consider when determining an appropriate settlement amount for your case. In addition to the monetary compensation, you may also be able to receive punitive damages if you can prove that the liable party was negligent or reckless in their actions. If you are unsure of your rights, it is important to speak with an experienced slip-and-fall lawyer as soon as possible.
What Type of Evidence Can Prove Premises Liability for a Slip and Fall Accident?
When filing a slip and fall claim, it is important to have evidence to back up your case to prove the premise's liability. This evidence can include any of the following:
Photographs or videos of the hazardous conditions that were the cause of the fall.
Witness statements from those who saw the incident occur.
Medical records showing the extent of your injury and treatments received.
Records from the liable property owner showing their knowledge of the hazardous condition.
Reports from safety inspectors verifying that the property was in an unsafe condition.
This evidence can be used to demonstrate that the liable party was negligent in their failure to maintain a safe environment and that they should be held responsible for any injuries. It is important to speak with an experienced slip-and-fall lawyer as soon as possible, so they can begin collecting the evidence necessary to prove medical liability. Any evidence that is going to be used as part of your case must be collected in a legal manner. If it is not, then it may not be able to be used in your case, which could dramatically reduce or even eliminate your chances of receiving a settlement.
Tips For Anyone After a Slip and Fall Accident
If you've been involved in an Indian Trail slip-and-fall accident, there are a few steps you can take to help protect your rights:
Seek medical attention: Make sure to get checked out by a doctor as soon as possible after the accident. This will document your injuries and provide evidence for your case.
Document the incident: Take photographs and videos of the hazardous condition that caused you to fall, as well as any visible injuries you have. Make sure to get the contact information of any witnesses who saw the incident occur.
Don't delay: Speak with an experienced slip and fall lawyer as soon as possible. Statutes of limitation exist in most states, meaning that you only have a certain amount of time to file a claim.
Don't give statements: An insurance company may try to contact you and ask for a statement regarding the incident. Do not give a statement until you've spoken with an experienced slip-and-fall lawyer who can advise you on how to handle the situation.
By following these professional tips, you can help to ensure you have legal protection and receive compensation for your personal injuries in Indian Trail, NC.
How Can a Slip and Fall Accident Personal Injury Attorney Help Me?
Slip-and-fall accident lawyers help you in several ways. They can:
File a personal injury lawsuit on your behalf and represent you throughout the process.
Negotiate with the engaged insurance company to get you a fair settlement for your injuries.
Gather evidence and present it in a way that proves liability for the accident.
Ensure justice is served and you receive maximum compensation for your injuries.
Answer any outstanding questions you may have regarding your case and help guide you through the process.
By working with an Indian Trail slip-and-fall accident lawyer, you are better positioned to recoup the compensation you deserve for your injuries. Your lawyer will handle all of the legal aspects of your case, so you can focus on recovering from your injury.
What Qualities Make an Effective Slip and Fall Lawyer?
When looking for a slip-and-fall lawyer, you want to make sure that they possess the qualities that will ensure the best possible outcome in your case. A good lawyer should have the following qualities:
Experience: Make sure to find a lawyer who has experience handling slip and fall cases. They should understand the laws that are relevant to your case and know what strategies work best to get a favorable outcome.
Attention to detail: Your lawyer should pay attention to the details of your case and ensure all evidence is properly collected and documented. The best way to assess a lawyer's attention to detail is by asking for references where you can speak with former clients.
Negotiation skills: Your lawyer should be skilled in negotiations and able to get you the best possible settlement for your injury. This skill is one of the most valued qualities in a lawyer, and you should ensure they have a proven track record of personal injury success when it comes to negotiating with insurance companies.
Dedication: They should be dedicated to your case and your recovery, working hard to make sure that you receive the compensation you deserve. From your initial meeting to the resolution of your case, your lawyer should remain focused on helping you get the best outcome.
Compassion: Having someone who is empathetic to your situation can be very helpful during this difficult time. Your lawyer should understand the emotional toll an injury can take on an individual and treat you with respect and compassion.
By finding a lawyer with these qualities, you can rest assured that your case is in good hands, and you will be best positioned to get a successful outcome.
Contact Ayers, Whitlow & Dressler Today
If you were injured in an Indian Trail slip-and-fall accident, contact Ayers, Whitlow & Dressler today. Our experienced legal team has the knowledge and skills necessary to handle your case and get you the compensation you deserve. We understand the financial, emotional, and physical toll that an injury can take, and we will work hard to seek and obtain the justice you deserve.
Contact us today for a consultation. We look forward to working with you.