Monroe Car Accidents
Every year, motor vehicle collisions are a leading cause of accidental injuries and deaths throughout the country. Each state has different laws for resolving claims for damages pertaining to vehicle accidents, and every victim faces a unique road to recovery after these experiences. When you or a loved one has been injured in a motor vehicle accident someone else caused, it's natural to have many legal questions when it comes to how you can recover your losses.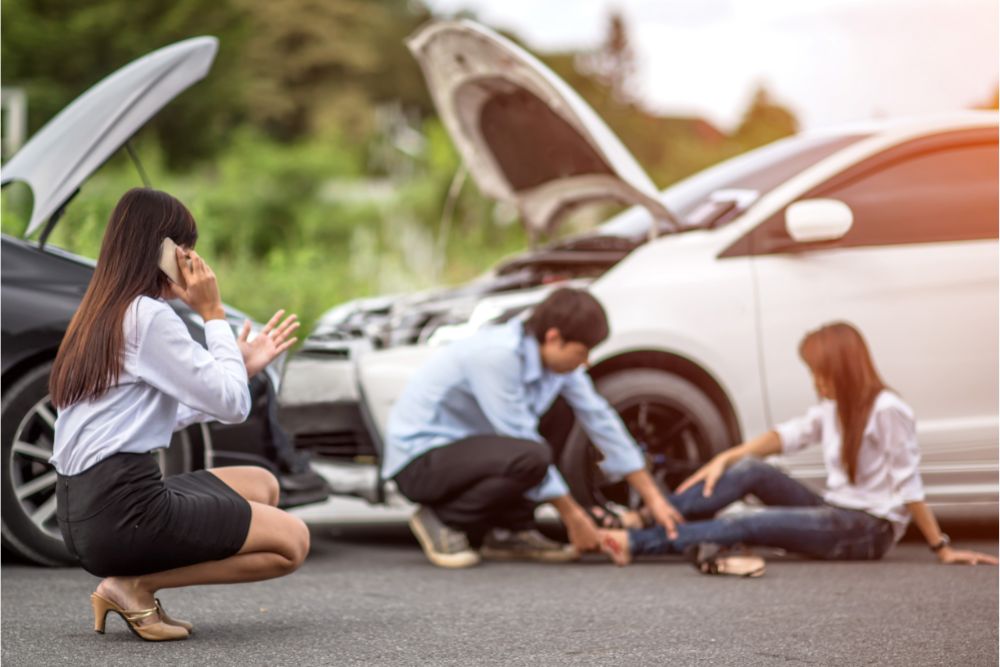 Representing Victims of Car Accidents in Monroe, NC
Auto insurance is typically a car accident victim's first option for recovering their damages. However, insurance alone may not fully cover the cost of a severe accident. If the defendant caused any permanent harm to the victim, insurance is unlikely to compensate the full breadth of their immediate and future losses. If you find yourself after a serious accident that another driver caused, a Monroe car accident attorney is the best resource to consult.
Ayers, Whitlow & Dressler is a team of experienced attorneys providing comprehensive legal representation to clients in the Monroe, NC, area. We have helped many past clients navigate very complex vehicle accident cases involving substantial damages. Our firm knows the challenges you are likely to face as you navigate your recovery efforts after a car accident someone else caused and can provide the support and guidance you need to recover as fully as state law allows.
Benefits of Legal Counsel for Your Recovery From a Car Accident
It is technically possible to file an auto insurance claim and even pursue a personal injury lawsuit without an attorney. However, you would face various strict deadlines and other requirements while also contending with the aftermath of your accident. If you are already struggling with medical complications and financial instability in your household from an inability to work, attempting to handle your legal proceedings by yourself would be risky and very challenging.
Hiring a Monroe car accident attorney to assist you in your recovery efforts makes all the proceedings ahead of you easier to face. Your legal team can answer your questions and address your concerns as they arise so you can always make informed decisions about your recovery efforts. While you rest and focus on your recovery and your household, your legal team can handle an auto insurance claim on your behalf and, when insurance can't fully cover your damages, begin civil claim proceedings against the driver who injured you.
Ultimately, you significantly improve your chances of success with both an auto insurance claim and a personal injury suit after a car accident with an attorney's help. Unfortunately, if you or a loved one sustained any severe injuries from your recent accident, it is unlikely that the at-fault driver's auto insurance policy will offer enough coverage to fully compensate for your losses. However, regardless of what your situation entails, Ayers, Whitlow & Dressler can provide the answers you need to your most pressing legal questions and help you maximize your recovery.
Common Causes of Car Accidents in Monroe, NC
Car accidents can happen for a number of unpredictable causes, but if a specific driver's actions directly result in an accident, victims have the right to seek accountability for their losses from the at-fault driver. Most car accident claims filed in North Carolina pertain to intentional misconduct and negligence behind the wheel, including:
Distracted driving. Inattentive driving is a leading cause of motor vehicle accidents in the United States annually. A few seconds of distracted driving is more than enough to cause a devastating collision resulting in catastrophic injuries.
Intoxicated driving. Driving while under the influence of alcohol or drugs is illegal and extremely dangerous. A driver who causes this type of crash faces criminal charges along with civil liabilities for the victim's damages.
Speeding. It is very dangerous for any driver to exceed the posted speed limit. Accidents at higher speeds are more likely to result in severe or fatal injuries.
Intentional misconduct. Aggressive driving, intentional moving violations, and general disregard for the safety of others and the traffic laws of North Carolina can easily cause severe accidents. Drivers who engage in such behavior face criminal penalties and civil liability for victims' damages.
This is not an exhaustive list of all the ways car accidents can happen, and every victim will face unique challenges as they pursue compensation for their losses. The first step in these efforts is likely to be an auto insurance claim against the at-fault driver's insurance policy. However, if you or a loved one incurred catastrophic injuries, you should prepare to start a personal injury suit to enhance your total recovery.
Filing an Auto Insurance Claim in North Carolina
North Carolina state law requires all drivers to carry auto insurance with liability coverage. Therefore, when a policyholder causes an accident with another driver, their insurance policy should cover the victim's medical expenses and vehicle repair costs. However, the minimum coverage requirements enforced by state law may not be enough to fully compensate someone after a serious accident.
Your Monroe car accident attorney will be a valuable asset in filing your auto insurance claim. They'll help you complete your claim forms and gather any supporting documents you need to submit to the insurance company. In addition, if any disputes arise or you encounter unfair treatment from the insurance company, your attorney will be readily available to assist with these matters until you receive a fair settlement.
Compensation for Car Accident Damages in North Carolina
When the damages you have experienced from a car accident exceed the at-fault driver's insurance coverage, a personal injury suit can help you recover any losses insurance won't cover. Your Monroe car accident attorney can assist you in filing your personal injury claim. Once you have received as much compensation as possible through insurance, your legal team will calculate your outstanding losses to help you maximize your recovery. North Carolina's personal injury statutes allow you to claim compensation for:
Medical expenses. The at-fault driver's insurance could potentially cover some of your medical treatment costs after your accident, but severe injuries may require expensive ongoing care. Therefore, the responsible party is liable for both immediate and future medical expenses they cause you to incur.
Lost income. When a car accident leaves you unable to work, the at-fault driver is liable for the income you lose during your recovery. In addition, if you are permanently disabled by an accident someone else caused and unable to return to work, the at-fault driver also faces liability for your lost future earning potential.
Property damage. You can potentially recover vehicle repair or replacement costs through an auto insurance claim. When your property losses exceed the at-fault driver's auto insurance coverage, you can seek compensation for the remainder of your personal injury action.
Pain and suffering. State law enables the plaintiff of a personal injury suit to seek compensation for physical pain, emotional suffering, and psychological distress caused by the defendant's actions. There is no limit to the amount of pain and suffering compensation you can seek in a car accident claim in North Carolina. Your Monroe car accident attorney can help you determine a reasonable figure based on how serious your injuries are.
You might be surprised to discover your claim is worth more than you initially expected when you pick the team at Ayers, Whitlow & Dressler to handle your case. Our firm has helped many past clients in Monroe and surrounding communities of North Carolina with their car accident claims, and we can put this experience to work for you.
We know the tactics some auto insurance carriers employ to avoid paying out on claims and the challenges that car accident victims face in their recovery efforts. We can provide the ongoing support and guidance you need to approach your car accident recovery with peace of mind.
How Can a Monroe Car Accident Attorney Help With a Car Accident Claim?
It's technically possible to file an auto insurance claim without an attorney. However, it is vital to remember that no insurance company has any incentive to pay out maximum compensation for your claim without contest. All US insurance carriers must process all claims for coverage in good faith and uphold their obligations under the policies they issue. Unfortunately, if an insurance adjuster notices a claimant does not have legal counsel, they may attempt to convince the claimant to accept a lowball settlement using various means.
Hiring an attorney minimizes the chances of encountering unjust pushback against your legitimate auto insurance claim in North Carolina. Your attorney can help you draft your demand letter to the insurer, explaining why their policyholder is liable for your damages and providing all necessary evidence and documentation to support the claim. When you have the right Monroe car accident attorney representing you, the insurance company is more inclined to be agreeable in your communications and process your claim efficiently.
If you encounter problems with your auto insurance claim, if the at-fault driver does not have insurance, or if your losses are too severe for their policy to cover, you need to prepare for a personal injury claim against the driver who caused your accident. A successful personal injury suit could yield far more compensation than you can expect from an insurance claim, but winning your case is going to be more difficult. Again, your legal team's assistance will be invaluable as you gather the evidence you need to file your civil complaint.
Resolving a Personal Injury Claim in North Carolina
Most of the civil claims for damages filed by North Carolina plaintiffs end in private settlement negotiations. This process enables both parties to resolve their legal dispute efficiently, saving time and money they would otherwise expend on protracted and tedious litigation. A Monroe car accident attorney with the right experience should do everything they can to settle their client's claim as quickly as possible with as much of a recovery as possible. However, litigation may be unavoidable in some car accident claims.
Regardless of whether the defendant in your claim caused your accident through negligence or intentional misconduct, you should be prepared to prove they violated their duty of care in handling their vehicle and this failure directly caused your damages. This is easier in some cases than others. If you litigate your car accident case, you should be prepared to offer compelling evidence that firmly establishes liability for the accident in question.
If a defendant denies liability and demands a trial, or if the parties in a car accident dispute cannot reach mutually agreeable terms in settlement negotiations, the case may need to be resolved by a judge. Whenever a judge rules on a civil claim, they have the final say on every aspect of the case, including the terms and conditions of the plaintiff's case award. A judge may also need to resolve claims of contributory negligence from defendants. The state's contributory negligence law upholds that if a plaintiff bears partial fault for their damages, they lose the right to claim compensation for their damages.
Ayers, Whitlow & Dressler has the professional experience you need on your side to resolve your case as efficiently as possible through settlement. However, we are also prepared to defend you in court if necessary and guide you through whatever litigation your case entails. We have helped many past clients through difficult cases involving hotly contested liability, multiple defendants, and complications with insurance claims. Whatever your case entails, we are prepared to provide the confident and responsive legal counsel you need on your side.
Find Your Legal Team Today
You have a limited window in which to take legal action following a car accident in Monroe, NC. Most insurance companies require claims for covered accidents to be filed within a few days. If you plan to start a personal injury suit after resolving your insurance claim, this requires meeting the statute of limitations for civil suits. The sooner you secure legal representation you can trust, the sooner you can begin working on the procedural demands of your case and working toward the recompense you need to recover.
North Carolina's personal injury laws are quite strict, but when you have a legitimate claim and the right attorney, the state's laws enable you to seek whatever compensation you need to be as whole as possible again after your accident. The right attorney can make a tremendous difference in the outcome of your recovery efforts following a car accident in Monroe. If you're ready to explore your legal options after a car accident someone else caused, contact Ayers, Whitlow & Dressler to schedule your consultation with a Monroe car accident attorney.