Monroe Neck Injuries
Neck injuries can be painful and interrupt daily life in many ways. Some neck injuries heal relatively quickly with rest and appropriate care, while others require more extensive ongoing treatment. Unfortunately, some neck injuries are severe, potentially resulting in long-term complications and chronic pain. While people can sustain neck injuries from a wide range of causes, some situations may justify legal action.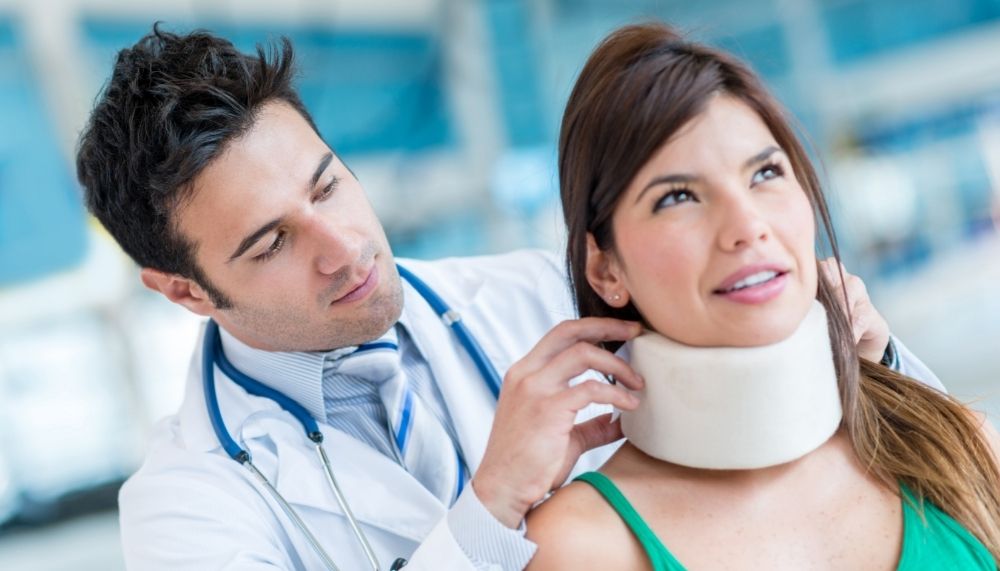 Legal Counsel for Neck Injury Claims in Monroe, NC
If you or a loved one suffered a neck injury at work, you are likely entitled to workers' compensation benefits. If another party caused a neck injury due to negligence or intentional misconduct, you likely have grounds for a personal injury claim. Some individuals may qualify to pursue both of these recovery options. Ultimately, if any other party caused your recent neck injury, or if the injury occurred in your workplace, a Monroe neck injury lawyer can help you examine your legal options for securing compensation.
Ayers, Whitlow & Dressler has extensive experience representing Monroe, NC, clients in a wide range of personal injury claims. We have also successfully guided many clients through the complex workers' compensation claim process. If you need legal advice after suffering a neck injury, especially if it occurred due to another party's actions, we could help you determine your best channels of recovery.
Why Should I Hire a Monroe Neck Injury Attorney?
Neck injuries can be excruciating, and even relatively minor neck injuries can be uncomfortable and disruptive to your work and daily life. If another party is responsible for causing your neck injury, they are also responsible for the resulting economic losses and the pain and discomfort you experience because of their actions. If the neck injury occurred in your workplace, North Carolina's robust workers' compensation laws allow you to seek compensation for your medical expenses and disability benefits when you are unable to work following the incident.
While it may be technically possible to file a workers' compensation claim on your own, this process is much easier to navigate with the help of an experienced attorney. Similarly, if you need to file a personal injury claim against the party responsible for causing your neck injury, a Monroe neck injury attorney is the ideal asset to consult in this situation. Attempting to manage a personal injury case unassisted while struggling with the aftermath of your injury would be making an already difficult situation even worse.
Hiring an experienced Monroe neck injury lawyer significantly increases your chances of success with your claims for damages following an injury caused by another party. Instead of attempting to handle all your legal affairs while simultaneously addressing your medical needs after a neck injury, you can focus on recovery while your attorney handles your case on your behalf. Ayers, Whitlow & Dressler can offer the comprehensive legal counsel you need in this challenging situation, assisting you in identifying your options for compensation and guiding you through your legal proceedings with confidence.
Common Types of Neck Injuries
The human neck is a very critical part of the body. When the neck sustains injuries, the victim may face critical medical complications and a long road to recovery. In addition, some neck injuries could cause long-term or permanent damage. A few of the most commonly reported neck injuries include:
Broken bones. Breaking one's neck can be a catastrophic injury. This type of injury can be fatal depending on the location and severity of the break. When the victim survives, they will likely require a neck brace for a long time until the fracture completely heals. After their initial recovery, long-term rehabilitation and therapeutic treatments are likely required.
Whiplash. One of the most commonly reported car accident injuries is whiplash, a condition caused by the head violently snapping back and forth due to crash impact forces. This experience is likely to severely stress the muscles and tendons in the neck. As a result, whiplash commonly causes a host of symptoms, including neck pain, dizziness, pain at the base of the skull, difficulty sleeping, etc.
Spinal cord injuries. The spinal cord extends from the base of the skull through the neck and down through the bones of the spinal column. The nerves connected to the spinal cord branch out through the entirety of the body. When the spinal cord is damaged, anything connected below the injury site has the potential to be affected by the injury. Spinal cord injuries in the neck are some of the most severe, potentially resulting in paralysis.
Spondylosis, or arthritis in the neck. This condition can develop gradually over time, especially if a person remains in the same position for long periods. An individual can develop this condition due to their work, and they would likely be entitled to workers' compensation if this type of injury develops due to their job duties.
If you or a loved one sustained an injury at work, it's vital to consult a Monroe neck injury lawyer as quickly as possible to start the workers' compensation claim process. Likewise, if your injury occurred in a car accident or other incident resulting from another party's negligence, it's important to start the personal injury claim filing process as quickly as possible. Depending on the nature of the incident that resulted in your neck injury, you could have multiple legal options for obtaining compensation.
Filing a Workers' Compensation Claim for a Neck Injury
When you have sustained a neck injury at work, you have the right to file a workers' compensation claim. North Carolina requires every employer to carry workers' compensation insurance, and this insurance coverage comes into play whenever an employee sustains an injury in their workplace. The claim process can seem straightforward, but the best way to approach this situation is with the help of an experienced lawyer. Your attorney can help you draft your claim forms and gather any supporting documentation you must submit to the insurance company.
In North Carolina, workers' compensation will typically cover all of the medical expenses an injured employee requires to recover as fully as possible from their injury. In addition, workers' compensation can also provide disability benefits to compensate the claimant for the time they miss at work due to their injury, and these disability benefits can be paid in four possible ways:
Temporary partial disability benefits apply when a claimant can keep working after their injury but cannot earn as much income as usual because of the injury. These benefits can last until the claimant fully recovers.
Temporary total disability benefits are suitable when a claimant cannot work until their injury heals.
Permanent partial disability benefits are reserved for claims involving injuries that cause permanent damage but do not prevent the victim from working. If they are forced to accept lower-paying work after their injury, permanent partial disability benefits can make up some difference in their pay.
Permanent total disability benefits are rarely awarded and only apply to claimants left permanently disabled and completely unable to work because of their injury. For example, if a workplace neck injury results in total paralysis from the neck down, the claimant would likely qualify for this level of disability benefits.
Disability benefits are paid according to the claimant's average weekly wages for the year before their injury. Some claimants may have difficulty securing workers' compensation benefits if they have been working for their employers for less than one year. The workers' compensation claim process, in general, is often not as straightforward as it initially seems to many clients. Working with a Monroe neck injury lawyer is the best way to approach these difficult situations.
North Carolina's workers' compensation laws typically prohibit injured workers from suing their employers for workplace injuries. However, there are a few exceptions to this. For example, if the claimant's employer intentionally harmed the claimant or if a co-worker intentionally caused the claimant's neck injury, these factors could justify civil claims in addition to workers' compensation claims. In addition, if a neck injury occurs entirely outside of the workplace and workers' compensation isn't a valid recovery option for the victim, they would need to pursue a personal injury claim against the party who caused their injury.
Filing a Personal Injury Claim for a Neck Injury
If you or a loved one sustained a neck injury in a car accident caused by another driver or in any other incident where another party is directly responsible for the injury, a personal injury claim offers your best opportunity to recover compensation for your damages. Some of the most common causes of neck injuries that lead to personal injury claims in North Carolina include:
Vehicle accidents. Whiplash and neck fractures are very likely in serious car accidents. If another driver was distracted, under the influence of alcohol or drugs, or otherwise negligent in a manner that resulted in your accident, you might not be able to rely solely on an auto insurance claim to recover your damages. When the at-fault driver's insurance isn't enough to compensate your losses, your Monroe neck injury lawyer can help you file a personal injury claim to hold them accountable.
Slip and fall incidents. Property owners must ensure their properties are safe for lawful visitors, guests, and customers. Slip and fall injuries can occur in various ways. If one such injury occurs due to a property owner's negligence, the victim can hold them accountable for a resulting neck injury under North Carolina's premises liability laws.
Medical malpractice. Many North Carolina residents trust medical professionals to provide safe and effective care. However, if a doctor or other medical professional causes a neck injury due to negligence, an incompetently performed procedure, or failure to accurately diagnose the patient's condition, the injured patient may have grounds to file a medical malpractice claim in response.
Injuries from violence. Individuals who inflict physical harm on others face criminal prosecution and civil liability for the victim's damages. Any violent crime that results in great bodily harm to the victim is likely to qualify for felony prosecution in North Carolina.
If you are unsure whether your recent experience justifies a personal injury claim against another party, you must speak with a Monroe neck injury lawyer as quickly as possible.
Damages and Compensation in Neck Injury Claims
When another party is responsible for causing a neck injury, the victim has the right to hold them accountable for all economic damages resulting from the incident. This includes all medical expenses incurred by the victim, both immediate and future. For example, some neck injuries require intensive immediate treatment and long-term rehabilitative care. The victim can also seek compensation for lost income if they cannot work for an extended period. Beyond economic damages, North Carolina state law also allows a plaintiff to seek compensation for their pain and suffering.
Your Monroe neck injury attorney can help you determine a fair amount of pain and suffering compensation to include in your claim based on the severity of your injury and whether you are likely to experience long-term complications or disabilities because of it. North Carolina does not limit pain and suffering compensation except in medical malpractice claims, in which non-economic damages are capped at $500,000.
North Carolina also enforces a contributory negligence law. If a plaintiff is partially responsible for the damages claimed, they lose the right to seek compensation for damages. If you have any concerns about contributory negligence coming into play in your neck injury claim, it's vital to speak with a lawyer as quickly as possible.
A neck injury can be a life-changing experience that causes extensive losses for the victim. If you find yourself in this situation, you need legal counsel you can trust to guide you through the resulting legal proceedings. Ayers, Whitlow & Dressler can provide the compassionate and detail-oriented legal representation you need to secure compensation for your neck injury. If you are ready to explore your legal options for recovering your damages, contact us today to schedule a consultation with an experienced Monroe neck injury lawyer.