Monroe Burn Injuries
Burns are some of the worst injuries anyone can experience. Burns are extremely painful, and they are capable of causing permanent damage in the form of disfiguring scars and disabilities. Additionally, burns are also traumatic, and many burn victims suffer long-term psychological distress from the trauma of their experiences and cope with the disabling effects many burn injuries cause.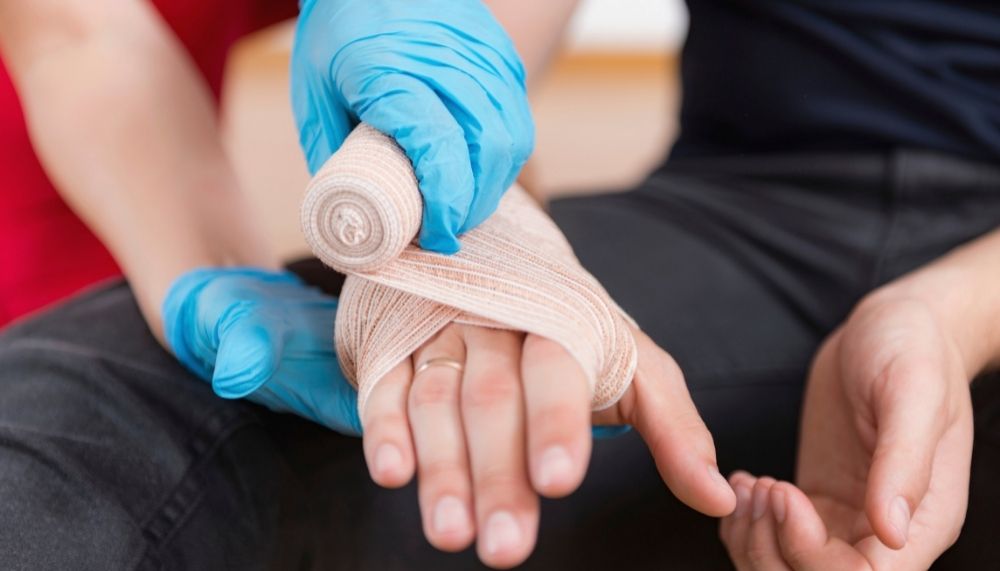 Legal Representation for Monroe, NC, Burn Injury Cases
If you or a loved one recently sustained a burn injury in the Monroe, NC, area, it's vital to know your rights and legal options for recovering your losses. Burns are highly traumatic injuries that often result in expensive medical treatment costs, the inability to work, and psychological distress. If another party is responsible for causing your recent burn injury, or if you suffered a burn injury at work, you could have more than one legal avenue of recovery available to you.
Ayers, Whitlow & Dressler has a team of experienced Monroe personal injury attorneys with years of experience representing clients in a wide range of civil cases. We also have extensive experience with complex workers' compensation claims, including those pertaining to burn injuries suffered in the workplace. Whatever your unique claim entails, we can provide the compassionate legal counsel and ongoing support you need to approach the recovery process with confidence and peace of mind.
Why You Need a Monroe Burn Injury Lawyer
If you suffered a burn injury at work in North Carolina, you have the right to file a workers' compensation claim. The state requires every employer with at least three employees to carry workers' compensation insurance. Therefore, any injury suffered in the workplace qualifies for workers' compensation benefits under North Carolina law. However, the workers' compensation claim process is more challenging than many injured workers expect. Any mistakes in your claim forms or missed deadlines can jeopardize your ability to secure the workers' compensation benefits you need following a burn injury at work.
When workers' compensation isn't available to you, or if you have suffered a workplace injury due to the actions of a third party or intentional misconduct from an employer or co-worker, you would need to pursue a personal injury claim to recover your losses. While it is technically possible for a burn injury victim to handle their own civil claim, it is hazardous and challenging, especially when the claimant lacks practical experience with the civil court system.
If you tried to handle a personal injury claim unassisted, you would need to meet various procedural requirements with the Monroe civil court, accurately calculate the full scope of your damages, and gather evidence and witness testimony to support your claim. Attempting to accomplish these things while managing your recovery would be making an already challenging situation even worse for yourself and your loved ones. Instead of risking your recovery, have an experienced Monroe burn injury lawyer fight on your behalf and handle the administrative aspects of your case for you. A good lawyer can help you meet all of the court's demands, but they are also likely to uncover avenues of compensation you would have likely overlooked on your own.
Hiring the right Monroe burn injury lawyer can potentially help you maximize your total recovery from a burn injury. Additionally, you will be able to rest and focus on your recovery with the reassurance of knowing your case is in trustworthy hands. Ayers, Whitlow & Dressler has the resources, skills, and experience to handle the toughest burn injury claims. We are ready to put our team to work to help you recover from your burn injury as fully as possible.
Common Causes of Burn Injuries
Burns can occur unexpectedly from a wide range of causes. Some of the most commonly reported causes of burn injuries that lead to personal injury claims in North Carolina include:
Vehicle accidents. Some vehicle accidents can result in fires and explosions, potentially causing devastating burn injuries to those involved.
Electrical hazards. High-voltage electricity can cause potentially fatal electrocutions. Exposure to dangerous sources of electricity can cause not only burns but also nerve damage and heart complications as well.
Chemical exposure. Some substances are capable of causing corrosive injuries and chemical burns. These injuries are not only often very difficult to treat but can easily result in devastating long-term damage.
Household accidents. Appliances like stoves, ovens, water heaters, and furnaces can cause burn injuries when they malfunction or are misused.
Defective products. An unreasonably dangerous or defective consumer product can potentially cause burn injuries, and manufacturers could face responsibility for victims' damages under applicable product liability laws.
Intentionally set fires are hazardous. If a victim suffers burn injuries because of arson, the perpetrator is likely to face criminal prosecution in addition to their civil liability for the victim's damages.
Workplace accidents. Some workplaces such as construction sites, refineries, and manufacturing facilities involve various fire hazards. Victims' first steps toward recovery are typically workers' compensation claims when burn injuries occur at work. However, some workplace burn injuries may also justify personal injury claims against the parties responsible for causing these incidents.
Ultimately, burn injuries can happen in various places for countless possible reasons. If you are unsure whether another party is to blame for your burn injury, or if you think you qualify for a workers' compensation claim in addition to a personal injury suit against the party who caused your injury, you need to speak with an experienced Monroe burn injury attorney as quickly as possible.
Workers' Compensation for Burn Injuries
Injured workers in North Carolina can file workers' compensation claims to secure coverage for any medical expenses incurred for treatment of injuries sustained on the job. Workers' compensation can also provide ongoing disability benefits when an injured worker faces an extended recovery period. The workers' compensation claim process is relatively straightforward, but it's common for injured workers to have difficulty with their claims.
A Monroe burn injury attorney can assist you in filing your workers' compensation claim in response to a burn injury suffered in your workplace. You must report the injury immediately, and you will likely need to undergo a medical examination from a physician approved by your employer's workers' compensation insurance carrier. Injured workers typically receive compensation for all medical treatments they require to recover fully. However, when it comes to disability benefits, these determinations are a bit more complicated.
Most workers' compensation insurance carriers award disability benefits in four ways:
Temporary partial disability benefits apply when an injured worker can continue working after their injury but cannot earn as much income. These benefits last until the worker can fully resume their previous duties.
Temporary total disability benefits apply when the injured worker cannot work at all until they recover.
Permanent partial disability benefits are suitable for injured workers who cannot return to their previous jobs because of their injuries and must accept lower-paying work.
Permanent total disability benefits are rarely awarded and only apply to injured workers who are completely unable to work due to their injuries.
Disability benefits are typically paid as a portion of the injured workers' previously earned weekly wages, usually about two-thirds of what they usually earn per week. Some workers' compensation insurance carriers will offer large lump-sum settlements for severe injuries, but it is crucial to consult an attorney before accepting any such offers. It's vital to submit a workers' compensation claim as quickly as possible after your injury. While you may have a seemingly generous amount of time in which to file your claim, it is always best to start quickly. Any delay in filing your claim will cause the insurance carrier to doubt the truth of your case. Working with an experienced attorney is the best way to approach this process as efficiently as possible.
Your Monroe burn injury lawyer can help you determine what benefit allotment is most suitable for your condition and guide you through your interactions with your employer's workers' compensation insurance carrier until you receive a fair settlement. In some cases, burn injury victims may qualify to file personal injury claims alongside their workers' compensation claims. While North Carolina's workers' compensation laws typically insulate workers from civil claims from injured workers, there are exceptions.
If your employer created an unreasonably dangerous workplace, or if your employer or co-worker intentionally caused the burn injury you suffered, you likely have grounds for a personal injury claim in addition to your workers' compensation claim. Similarly, if a third party outside your workplace caused your burn injury while you were performing job duties, you would have grounds to file a personal injury claim against this third party in addition to a workers' compensation claim through your employer's insurance carrier.
Types of Burn Injuries and Their Effects
Burns are severe injuries that often require immediate emergency medical care, but it can be difficult for some victims to ascertain the severity of a burn immediately after it occurs. Therefore, medical professionals diagnose and classify burns using a degree scale:
First-degree burns are the mildest burns, and some of these injuries are treatable with over-the-counter first aid supplies unless they cover more than 10% of the surface of the body.
Second-degree burns are more severe and usually require immediate medical treatment. In addition, these burns can be excruciating and cause scarring.
Third-degree burns are medical emergencies that demand immediate treatment. A third-degree burn is one in which the burn penetrates through all layers of the skin and damages the tissues beneath.
Fourth-degree burns are catastrophic injuries that completely destroy the skin and expose underlying tissues. These injuries can severely damage muscle tissue, bones, and internal organs.
Burns are incredibly painful, even seemingly minor ones. Victims of burn injuries often require immediate medical care and experience severe pain through most of the recovery process. Severe burns, typically classified as third-degree or worse, are also likely to cause long-term or permanent damage.
A third-degree or higher burn may damage tissues beneath the skin. Affected skin may need to be surgically removed, and the victim will need a skin grafting procedure to repair the affected area. Scar tissue is likely to form, and this can be disabling and disfiguring. In addition, scarred skin loses most of its elasticity, so if a burn affects a joint or area of the body where the skin is supposed to move and flex, the victim may experience diminished range of motion or extreme discomfort when they move in certain ways.
Burns are also psychologically traumatic. Not only can the experience of suffering a burn injury be psychologically scarring, but the aftermath can be emotionally devastating as well. Victims may struggle to cope with permanent disfigurement, scarring, and disabilities caused by their burns.
Damages and Compensation in Personal Injury Cases
While workers' compensation can provide coverage for medical expenses and some degree of compensation for lost income, the potential recovery from a personal injury claim is more expansive. If you qualify to file a personal injury claim for your burn injury, a Monroe burn injury lawyer will be an invaluable asset for calculating the full scope of the damages you can seek in your claim. The economic damages available in most burn injury cases include:
Medical treatment costs. Burn victims typically require both immediate emergency care and long-term rehabilitative treatment. If another party caused your burn injury, they are responsible for immediate treatment costs like hospital bills, ambulance fees, and surgical costs. They are also liable for long-term treatment costs for ongoing therapy you require, physical rehabilitation, and psychological treatment for addressing the traumatic nature of your injury.
Lost income. Workers' compensation can potentially provide some level of compensation for lost earnings following a burn injury. When a victim qualifies to file a personal injury claim, they can seek whatever lost income workers' compensation insurance won't cover and compensation for their lost future earning capacity if they cannot return to work due to their injury.
Property damage. If a defendant's actions also resulted in damage to the plaintiff's personal property, these losses can be included in the victim's personal injury claim.
Your Monroe burn injury attorney will assist you in calculating the total economic damages you can seek in your burn injury lawsuit. Additionally, North Carolina law allows personal injury plaintiffs to seek compensation for non-economic damages, specifically their pain and suffering.
It can be difficult for a victim to determine what would be a fair amount of compensation to seek for a painful and damaging burn injury. However, when such an injury causes permanent damage, the victim is likely to experience a diminished quality of life, psychological distress from permanent scarring and disfigurement, and may be unable to live independently, depending on the severity of the injury.
North Carolina does not limit the amount a plaintiff can seek in pain and suffering compensation, with the sole exception of medical malpractice claims. State law limits non-economic damages in medical malpractice cases to $500,000. In all other cases, plaintiffs can seek whatever amount they deem appropriate to reflect the severity of their experience. An attorney will likely multiply the client's total economic damages by one to five depending on whether the client faces long-term or permanent damage from the defendant's actions. It's common for pain and suffering to form most of the plaintiff's recovery in a burn injury claim.
Contributory Negligence in North Carolina Personal Injury Claims
One important caveat that requires consideration in any personal injury claim in North Carolina is the state's contributory negligence statute. Under this law, a plaintiff loses the right to claim compensation for their damages if they bear partial responsibility for causing them. Therefore, if you are even slightly at fault for causing the incident that resulted in your burn injury, you could be barred from recovery through your civil claim.
Defendants in North Carolina personal injury claims often assert contributory negligence to deflect liability for the plaintiff's damages. If you are concerned about contributory negligence factoring into your burn injury case, it's vital to consult an experienced attorney to address these concerns.
Find the Legal Counsel You Need Today
Whether you are facing a difficult workers' compensation claim process, a complex personal injury claim, or both following your burn injury, legal counsel you can trust is invaluable in this situation. The right Monroe burn injury lawyer can help you explore every compensation channel available to you, potentially revealing recovery options you would have overlooked on your own.
Ayers, Whitlow & Dressler has years of experience guiding clients through complex workers' compensation claims and personal injury claims, including those pertaining to severe burn injuries. It's natural to feel distressed and isolated by your circumstances if you have suffered a burn at work or due to the negligence of another party in Monroe, NC, but the right attorney can offer support and guidance when you need it most. In addition, if you are ready to explore your options for legal recourse after a burn injury, we can help. Contact Ayers, Whitlow & Dressler today to schedule your consultation with an experienced and compassionate Monroe burn injury lawyer.