Indian Trail Personal Injury Attorney
Personal injury law is a specialized area of the legal system that handles cases related to events where someone has sustained an injury or suffered losses due to another party's carelessness, negligence, or otherwise wrongful action. This field of law covers accidents and other incidents ranging from car crashes and medical malpractice to slip and fall injuries. Personal injury attorneys are responsible for helping injured victims get fair compensation for medical bills, lost wages, pain and suffering, emotional distress, and more. Personal injury attorneys help ensure individuals receive the justice they deserve when their rights have been violated. Clients can rest assured knowing they have skilled professionals on their side.
Ayers, Whitlow & Dressler is a full-service law firm with a dedicated personal injury practice in Indian Trail, NC. Our attorneys have extensive experience in seeking compensation for those injured by another's negligence. Each case is handled with the utmost sensitivity and professionalism, from initial consultation through resolution. Our team goes above and beyond to provide the highest level of service to our clients so they can focus on returning to their normal lives.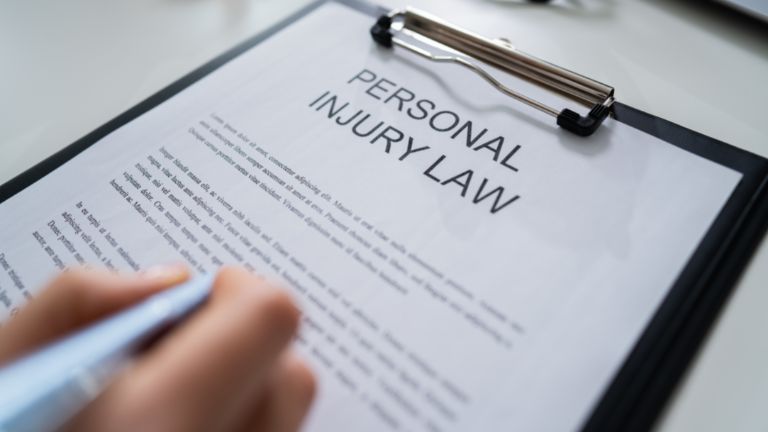 What Types of Cases Fall Under Personal Injury Law?
Personal injury cases can involve a wide range of incidents, including:
Car accidents: A driver who causes an accident due to negligent or reckless behavior may be held liable for any resulting damages. These situations occur for various reasons, including distracted driving, drunk driving, or speeding. When an accident causes serious injury, a personal injury attorney can help hold the at-fault driver accountable for any medical expenses and lost wages that were incurred.
Medical Malpractice: Healthcare providers have a duty to provide care that meets accepted standards of practice. When a doctor, nurse, or other healthcare professional fails to do so, they may be held accountable for the resulting damages. A personal injury attorney can help build a case against an irresponsible medical provider.
Product liability: When a dangerous or defective product injures someone, the manufacturer and/or retailer can be held liable for any resulting damages. A personal injury attorney can help prove negligence on the part of the responsible party and pursue a financial award for the injured victim.
Slip-and-fall accidents: Property owners are responsible for keeping their premises safe with proper maintenance. When an injury occurs due to an unsafe condition, such as a wet floor or unmarked staircase, the property owner may be liable for any damages. A personal injury attorney can help build a case and pursue compensation.
Wrongful death: When a loved one dies due to another party's negligence, the family may be able to pursue a wrongful death lawsuit. A personal injury attorney can help family members get the justice and compensation they deserve for their loss.
Pedestrian accidents: Drivers who fail to obey traffic laws and regulations may be held responsible for any injuries they cause to pedestrians. For example, if a driver ignores a stop sign and strikes a pedestrian, they may be held liable for any resulting damages.
Dog bites: Dog owners are responsible for controlling their pets and preventing them from attacking others. If a person is injured due to a dog bite, the owner may be held liable for any resulting damage, including expenses to repair any scarring or disfigurement.
Nursing home abuse: Nursing homes are responsible for providing a safe and comfortable environment for their residents. The facility can be held liable if a resident is harmed due to negligence or abuse. A personal injury attorney can help victims and their families get the justice they deserve.
What Makes An Effective Personal Injury Attorney?
A personal injury attorney should have the qualifications and experience to handle a wide range of cases. They should be well-versed in state and federal laws related to personal injury and be able to explain the legal process their clients can expect. They should also have a comprehensive understanding of medical terminology, be able to interpret medical records, and be familiar with the types of injuries that often result from an accident.
The right personal injury attorney should also be proactive and willing to fight for their client's rights. They should have the drive and dedication to aggressively pursue a successful outcome and be willing to take a case to trial if necessary. Above all, they should strive to provide the best possible legal representation while responding promptly and effectively to their clients' needs.
In the end, choosing a personal injury attorney should involve careful consideration and research. It is important to find an experienced, knowledgeable, and dedicated attorney to obtain justice for their clients. With the right legal representation, injured victims and their families can get the financial award they deserve for their losses.
What Evidence Is Needed To Prove Liability?
The evidence needed to prove liability depends on the type of case. Generally speaking, an injured party must prove that the party responsible for their injuries was negligent and that this negligence caused the injury. Evidence may include medical records, eyewitness accounts, video footage, and other physical evidence. A personal injury attorney can help gather and analyze the necessary documents to build a strong case.
In some cases, a personal injury attorney may use the legal doctrine of Res Ipsa Loquitur, which means that an injury was caused by negligence without any direct proof of negligence. This doctrine can be especially beneficial in cases involving dangerous products or medical malpractice, as it eliminates the need for an injured party to prove that the responsible party was negligent directly.
No one wants to face the aftermath of an injury caused by another person's negligence. But with the help of a personal injury attorney, you can legally collect the necessary evidence to prove liability and get the justice you deserve.
Contact Ayers, Whitlow & Dressler Today
At Ayers, Whitlow & Dressler, our experienced team of personal injury attorneys is dedicated to helping injured victims and their families get the justice they deserve. We understand that dealing with the aftermath of an injury can be overwhelming, so we strive to provide compassionate and effective legal representation with every case we handle. With our knowledge and resources, you can know that your rights are in good hands.
If you or a loved one has been injured due to another person's negligence, contact us today. We proudly serve communities throughout North Carolina, so don't hesitate to schedule a consultation with us today. We are dedicated to helping you get the justice and financial award you deserve.